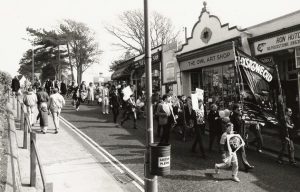 In 1986, Margaret Thatcher paid a visit to Felixstowe. Her presence provoked a demonstration by CND, which was very active in the town at that time. Singing as we went, about 200 townspeople and our friends gave up our Saturday morning visit to Tesco's in favour of a march from Allenby Park, down Hamilton Road, to the War Memorial on the Sea Front. Conspicuous among the singers were Mim MacMahon, Sophie Watson, Gale Watson (Sophie's mother) and,  to a certain extent, Sue Manley, who had somehow found herself helping to carry the Felixstowe CND banner, which was extraordinarily heavy and took rather a lot of puff!
It was Gale's suggestion that the three of us did more singing together. Mim and Sue had been singing together for about ten years and had occasionally sung with Sophie. Since there seemed to be a need for people who would make a generally tuneful, left of centre, noise, it didn't seem much of an imposition. Thus it was that the three of us went into a huddle and, fuelled by tea and pasta, surfaced with a piece of paper headed "Triangle Music" containing a list of assorted music from folk to pop via protest and just about anything, really. It was a start. It was also a name, now usually truncated to "Triangle" to save breath for singing.
We should say, at this point that the band's name has absolutely nothing to do with there being three of us. It's all about those two words at the top of a sheet of paper.
So why "Triangle"? If you don't come from Felixstowe, you won't know that the Triangle is, in effect, the centre of town. If we're honest, it's a road junction in the main street, Hamilton Road, where three roads meet creating a, well, triangular area whose main features were, at the time, a shelter, flower beds and the public conveniences: hardly a world heritage site! But if you want people to see you, which, of course, any protesting group does, it is the one place which almost everyone at large in the town will pass at some point. So now you know. The Triangle has improved hugely since then (not least because they've moved the public lavatories!) and it now has its own "performance space", a  21st century bandstand. In 2011 we were privileged to be one of the bands which played for the official opening — twenty five years and two months after our first appearance there.
So what do you get when you put together these three musicians? For a start, you get a tremendously mixed bag of influences: from plainchant to pop (literally). All of us have done "proper" choral singing, and that makes a tremendous impact on the kind of sound we want to hear ourselves making. One thing you will not hear is that classic "folk singer" sound  with or without a finger in the ear.  We do play instruments: Sophie is a very good guitarist and also plays tin whistles and melodeon. Mim plays recorders and violin, while Sue claims to be the worst guitarist in the world when she is not playing "anything you can blow down".
But, for Triangle purposes, we ditched them. Why?
In response to a certain amount of public demand, in 1992 we made an album, "Journeys". With the exception of one or two tracks it left us feeling vaguely dissatisfied.
Just as we began work on a second album, reality started to get in the way. Educations had to be completed (OK, so we were late starters), money had to be earned and the various complications of everyday life had to be dealt with. But we carried on singing and playing together whenever we could. People liked what we did, but we knew it could be better.
One June evening, in Reading, of all unlikely places, we realised that WITH the instruments, we sounded like everybody else.  WITHOUT them, we sounded like us and, on the whole, we preferred it that way.  It took a while to sort ourselves out but in 2005 we did our first proper gig for some years at the annual Ipswich Steamboat Folk Weekend with a set derived mostly from the a cappella items we had been doing for years. You didn't ask, but the set's working title was "As we were saying …".
We've moved on since then.  Our 2009 CD Time Out Of Mind  included rather more of our own original work than we had anticipated, but  stayed firmly rooted in the traditions we have inherited.
Once, when we were trying to decide what our style could possibly be called, we came up with the name "Chamber Folk", which seemed to fit: folk, certainly, with a hint of classical, perhaps, and always on an intimate scale (how could it be otherwise with only three unaccompanied voices). More recently we were described as "Cabaret Folk" and "an all-round performance", because we act the songs as well as singing them.  Apparently real folk singers do not do this.  Or so we have been told.  Our 2016 release "This Will Go Onward The Same"  acknowledged our explorations into English poetry and had a slightly less folky feel.
Currently, we are in the process of moving on further from the "folk" label.  We would never totally discard it or cease to acknowledge the debt we owe to our history, but "English music" means more than that. So we are going exploring…….
If you want to know how that looks, watch us live!