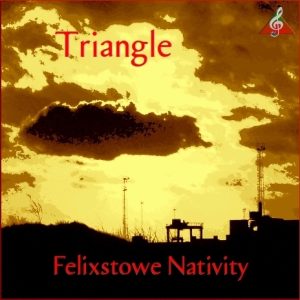 Downloads available at our Bandcamp site
1. The Ditchling Carol
Words by William Robert Spencer (1769-1834)
Melody by Peter Parsons (d. 1901)
Peter Parsons was a shoemaker and church musician from Ditchling, near Brighton. Ditchling was for a long time a well-known centre for church bands. The author was a grandson of the 3rd Duke of Marlborough.
2. A Felixstowe Nativity
Words and Music by Mim MacMahon
Mim says: I can't explain this. It is an attempt to answer a question I have asked myself for years: "Supposing a Messiah was born in your town? What would you see?" Of course, you might have slept through it all, but if you didn't – and you lived in my  town …
3. Nay, Ivy, Nay
Words: Traditional
Music: Traditional, adapted and arranged by Mim MacMahon
Mim says: I've always been faintly dissatisfied by "The Holly and the Ivy" — it tries to do too much – is it meant to be religious, or about evergreens? So I've deconstructed it, and reconstructed it into not one but two songs. The second of the two will feature (possibly) on our next full-length CD. This is the first, and it all fell neatly into place with this marvellous old singing game, a kind of boys v girls tug of war, played, I believe, at Christmas parties in Henry VIII's time, and possibly even at his court. I always felt sorry for ivy – until I had some in my garden, that is! The melody I shamelessly adapted from at least one, possibly two, traditional ones.