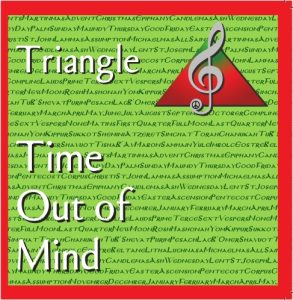 Downloads available at our Bandcamp site.
These are the sleeve notes more or less as written originally in 2009 – some things have changed, some haven't …
We've kept it brief on the CD insert, or "album sleeve" as I persist in thinking of it, so this is where the real sleeve notes are. Back in the Old Days, your long-playing record came with a twelve-inch-square sleeve — perhaps even a gatefold sleeve — full of artwork, track listings and notes with which (after you had committed the gist of them to memory) you could amaze your friends. And it looked so impressive as you swanned around with it held ostentatiously under your arm.
Alas, those days are past. We have gone from 12 inches square to 12 centimetres square. The Compact Disc gives you the choice of having your sleeve notes either non-existent or in a typeface so minute that you need a magnifying glass, and it will fit in a substantial pocket. But what technology takes with one hand, it gives back with the other: we have the Internet, the biggest gatefold record sleeve in the world!
The songs follow the seasons from one autumn to the next — from harvest to harvest, in the agricultural rhythm. Each song tells a story in itself: sometimes the underpinning story of Tom and his lover Magdalen, more often the stories of the people and communities Tom passes by on his travels.
We join Tom at the autumn equinox when the sun becomes less powerful, and the darkness and the moon take precedence over the autumn and winter months. Tom has a relationship with the moon — in a way, she is a friend to him. He speaks to her and he believes she speaks to him. Maybe he doesn't notice that in the world, as October fades into November, we are mourning our dead, in public ceremony and private grief; for millennia, in the northern hemisphere, we have known that this time of year belongs to them.
Tom passes. Time passes. Suddenly, almost jarringly, we have arrived at midwinter, with its seemingly incongruous festivals of light: Hannukah, Sol Invictus, Yule, Christmas. Humanity cannot bear too much sadness.
This section begins with a sudden wake-up call: the old gallery hymn "Shepherds, Arise" proclaims the rekindling of the light and the beginning of the progression upwards into spring and summer. Proclaims, too, the miracle of new-born life; yes, this may be the Christ-child, but anyone who has looked on a newborn baby feels some part of the exultation and wonder set forth by the anonymous writer of this beautiful mini-"Messiah" — the unexplained, intriguing little present under the Christmas tree, containing a carved rustic box; open the box, and out shimmers this exquisite, miniature Christmas oratorio, delighting us and brightening our hearts.
After the ceremony, the feast; after the feast, the story. "A sad tale's best for winter." For some reason, at Christmas, we like to draw close together in the glow of the hearth (or maybe the TV) and listen to something truly ghoulish. Traditionally, it would be a ghost- or horror-story, preferably one with a seasonal setting. "The Mistletoe Bough" fits the bill nicely.
Time passes. Tom passes. The year turns. As work resumes on the farms, apple trees are wassailed and blessed, to encourage them to bear a good crop. But the winter drags on, and so do loneliness, cold and desperation — not only for Tom. Despite the best efforts of her parents to provide for her future, the heroine of "The Trees They Do Grow High" is left, widowed and alone, to brood mournfully over what might have been.
February brings more cold, it is true; but also the first real signs of the strengthening sun, birdsong, sticky buds, polyanthus. And another return; Madgalen, Tom's former lover, has been freed from Bedlam herself, and is searching for him. He doesn't know it yet, but he is no longer alone.
At last, March. The vernal equinox. "Bright Phoeby awakes, so high up in the sky". The spring sunlight makes everything look better. They've certainly noticed it in the pub!
Good Friday comes, the dark and awful mystery of the cross. Calvary has replaced Bethlehem. But then Easter; the empty egg from which the bird has hatched, the empty tomb from which the Lord is risen. The dying god returns to the light again; we are saved; we are happy.
April comes, then May. We think of summer, warmth, love. "Rosebud in June" isn't really about sheep; there is a yearning loveliness in the melody that speaks of something more, as the two girls long to see again the men they met last year, shearing the sheep.
Midsummer: thunder; heat; fever. In Whitby, an old sailor dies and the people remember the grisly old tale of the Barghist Coach, the phantom vehicle that comes, inevitably, out of the sea to fetch the spirit of a sailor who had been buried on the land.
But it is summer: time to pick (and eat) strawberries! And haymaking is thirsty work, so perhaps another visit to the pub is called for?
The wheel of the year has turned full circle. July passes, and August. The sun begins again to weaken. But at the turn of the season, Tom and Magdalen meet at last, and travel on together as the cycle begins again. This time, Tom will not face the dark alone.
Bedlam Boys
Words: Traditional/Thomas D'Urfey
Music: Traditional arr Mim MacMahon
Sue: When we first meet Tom of Bedlam he is alone, begging in the street for food, drink or rags to wear. Alternately talking to the moon and trying to block out the voice in his head he wanders, plagued by strange visions. Is he mad or ill? Some commentators have suggested that the song describes the last stages of syphilis. It's possible; there are a lot of images which could be construed as sexual and, as so often, it's all a matter of how you yourself want to understand them.
I've been fascinated by the "Bedlam Boys" ballad for years and collected verses wherever I could find them until, at the last count, I had twenty seven, as well as twelve other verses in a slightly different metre. Some of them seem to be very "literary", while others appear to describe, quite accurately, the situation of the mentally ill in a world with no kind of healthcare. When we decided that it was time to move on from using the Nic Jones/Dave Moran tune popularised by Steeleye Span, it seemed a good time to look again at all the verses we had and see how we could use them to tell his story in a more coherent way. Three songs came out of this process and, between them, they tell Tom's tale in parallel to the feasts and fasts of "normal" life.
In Memoriam
Words © Sophie Watson and Mim MacMahon 2007
Music © Mim MacMahon 2007
Sophie: In Memoriam was written specially for the Time out of Mind CD.
We had decided that the CD would be loosely based on the concept of the wheel of the year, and all three of us agreed that (especially given the band's roots) there should be an anti-war song round about November. The problem was that we couldn't find one that seemed appropriate for the 21st century. We have a band policy of performing only songs that are either traditional, out of copyright, or (in a very few cases) modern but with the express permission of the copyright holder. All of the traditional anti-war songs seemed … well … fluffy's the wrong word, but we really wanted something that would capture the full horror of modern warfare, and the traditional ones either didn't do that for us, or didn't lend themselves to our type of a cappella singing. And of course songs such as Eric Bogle's brilliant "No Man's Land" (aka "The Green Fields of France") and "The Band Played Waltzing Matilda" are still well within copyright. There was only one solution, and that was to come up with something ourselves.
I went home from one dispiriting practice session during which we failed to find anything that we felt was suitable, and lay in bed with all the discussions we'd had mulling around in my mind, alongside memories of a debate that had recently taken place on a newsgroup that the three of us belong to. The debate had been about the wearing of poppies for Remembrance Day, and specifically the ethics of choosing between the traditional red poppy, and the white poppy of the Peace Pledge Union. Slowly a chorus and a couple of verses started to crystallise in my mind before I fell asleep, and to my great surprise I managed to remember them in the morning! The first version was very rough, but around two thirds of that original version survived Mim's subsequent rewriting to make it into the final song.
Mim: I can't rememember what I actually did on the lyric — I think Elgar might have been me (thinking of "Nimrod") and the "legion of the dead" as a kind of echo of the British Legion.
The tune is "based on a traditional theme" and those sharp-eared listeners among you will, perhaps, recognise it — it happens on another track also, and for centuries has been associated with death. As I was writing it, I felt that a three-part harmony throughout would be too lush, somehow, and then the "roll of honour" idea for Sue's part occurred to me. The names are all authentic, which is to say they are the names of real First World War casualties. They are all taken from the Felixstowe War Memorial, really for the practical reason that it is my local one — there are associations for the band, too, from our campaigning days.
The possible repercussions I never thought of: Felixstowe is still quite a small town, and the descendants of many of those names still live here. That did give me an uncomfortable time but, so far, all the reaction we have had has been positive. I can only plead that our intention was to honour the bearers of the names and, so far, their descendants seem to have taken the gesture in that spirit.
It was Sue, by the way, who organised the names into groups that would scan under the verses, so this is a true joint effort.
Sue: I, on the other hand, knowing that I could not get all the names from the memorial into the space of the song, had set out to select, as far as possible or reasonable, names that I knew would resonate with living inhabitants of the town, whether or not they were actual relations. I was relying on the well-known "cocktail party" phenomenon whereby one can hear one's own name, even if it is whispered, above any amount of cacophony and I have noticed, when we have performed the song live, that it does seem to work, as a face in the crowd suddenly registers recognition at an apparently random moment. We know there are relatives out there — we've met some already — so if you recognise your grandfather or great uncle in the roll-call, please get in touch, we'd love to hear from you.
It was only when we were taking photographs of the names on Felixstowe War Memorial that we discovered Ernest Seaman, VC, who turned out to be, in effect, the star of the song. The Grand Hotel, where he worked, is only a couple of hundred yards from the memorial.
The Unquiet Grave
Words: Traditional
Music © Mim MacMahon
Mim: I realise that there is a cracking traditional tune to this, but I think of it as the tune to "Dives and Lazarus", so I embarked, one day nearly 20 years ago, on a search for a tune that was tailor-made for this wonderfully atmospheric set of words. I ended up writing one myself, and the original, written in 1991 (or possibly 1992, I forget) had me singing the top line, Sophie the middle line. Listening to the playback of a gig we did in 2006 I realised what had been wrong with the song from the outset. The balance was all wrong: the top voice — me — was too brightly coloured, and Sophie was getting lost in the balance. So we swapped parts, and I feel it's been vastly improved.
As regards its place at this point in the album, it seemed to all of us that the girl's dead true-love had died by an act of violence (or why would he be lying in the greenwood, and not in a proper cemetery or churchyard?) and, therefore, that her bereavement was of a similar nature to that of those who mourn the war dead. The wind and rain of the first verse gave it a late autumn/early winter setting, and the references to fallen leaves and withered flowers suggest the same. It seemed all of a piece with "In Memoriam" and to have its rightful place in November, the month of the dead.
Shepherds, Arise
Words: Traditional
Music: Trad arr Mim MacMahon
Sue: As experienced choral singers as well as singers of folk songs we can't help but find ourselves surrounded by a whole herd of "elephants in the room", particularly where Christmas music is concerned. This carol, although it is, essentially, closely related to the Copper Family version, pays tribute in its last verse to one of them: Sir David Willcocks.
The chances are, if you know a descant to "Hark the Herald Angels Sing", or "O Come All Ye Faithful", then it will be the descant written by Sir David for his King's College, Cambridge, choir. But it isn't only because of those descants that Mim gave Sophie a wordless descant in the last verse: what do you do with a Wiccan when you are singing about one of the central tenets of the Christian faith? The last verse of "Shepherds, Arise" is, pretty much, the text of every Christmas sermon that has ever been preached, so it hardly seems fair to ask her to sing it. Having decided this, Mim felt that there was only one thing to do: give her the music, but not the words. And that's something fairly traditional too: if you've sung Christmas carols in choirs you'll know that you do seem to spend quite a lot of time going "Ah …" or, sometimes, just for variety, "Mmm …", usually when you'd far rather be belting out the words!
The Mistletoe Bough
Words: Thomas Bayly
Music: Sir Henry Bishop arr Mim MacMahon
Mim: At last, they were all assembled in the oak-panelled banqueting hall, the scene of that ill-fated wedding reception, decades before. An uneasy silence fell. Hercule Poirot brushed an imaginary speck of dust from his sleeve, checked his buttonhole, and gave a slight cough.
"Eh bien, mesdames et messieurs," he said. "I will not conceal from you that his has been a case most perplexing. The little grey cells have been most exercised."
"Good Lord, Poirot," said Captain Hastings.
"But, enfin, I can reveal to you all," Poirot went on, "the true facts behind the disappearance of Lady Lovell on the night of her wedding — to yourself, Monsieur le Vicomte." The old man's face twitched almost imperceptibly.
Poirot continued: "The facts are well documented. The unfortunate young lady had just celebrated her wedding — the wedding of the year, a celebration most splendid which united two aristocratic families. Madame became — how shall I say? — fatiguée from performing her duties as a new bride. She asked for a game of — how do you call it? — the hiding and seeking."
"Hide and Seek," murmured Miss Lemon, softly.
"Merci," said Poirot, "the Hide and Seek. She ran from the room in her wedding gown, and from that day — fifty years ago to this very day, the twenty-sixth of December — she was never seen again, until her mortal remains were discovered in the old oak chest in the North Tower."
"Good Lord, Poirot," said Captain Hastings, suppressing a shudder.
"Indeed, mon ami," said Poirot, sombrely, "a fate most horrible."
"For pity's sake, damn you, where is this getting us?" Lovell suddenly exploded, his face white and now visibly twitching.
"Patience, Monsieur," continued Poirot with an air of calm authority. "The tragedy has been described as an accident, but enfin, I, Poirot, can reveal the truth."
The silence in the hall was almost tangible.
"The new Lady Lovell," Poirot went on, "was heiress to a vast estate, being the only child of the late Baron, who died shortly afterwards, supposedly of a broken heart. On her marriage, all her property came to yourself, Monsieur le Vicomte, as her husband, since you did not have at that time the Married Women's Property Act. Were she to die, all her inheritance would be settled on yourself as her husband and sole heir. When, seven years after her disappearance, she was declared dead, the Baron having also died, this is what happened. You became, Monsieur, a very rich man."
"I don't see what that has to do —" began Lovell angrily. Poirot held up his hand in a commanding gesture. "Silence!" he cried.
"Lady Lovell," he continued, "was of course a young lady who was — how do you say? — spoilt. She was fond of getting her own way, and she got it. And she was known to have a passion for the Hide and Seek."
"Good Lord, Poirot," said Captain Hastings.
"It would not have been difficult," said Poirot, "to suggest to her a game of the Hide and Seek to enliven the duties of the evening. Nor would it have been difficult to put into her suggestible brain the idea of hiding in the oak chest in the North Tower. It was known to you, was it not, Monsieur le Vicomte?"
"You devil!" cried Lovell, leaping to his feet.
"Not so fast, Monsieur," said Poirot, as Hastings brought Lovell down with a rugby tackle as he sprang for the door with, for a man his age, remarkable agility. "You, Monsieur le Vicomte, had the motive, the means, and the opportunity. Enfin, mes amis, the murderer of Lady Lovell is unmasked!"
Lovell wiped a stream of blood from his nose as Hastings yanked him to his feet. "Yes," he snarled, as he spat out several teeth, "I killed the insufferable little brat. And I'm glad, I tell you, glad! I haven't regretted it for a day, no, not for a single minute! And frankly, I wasn't the only one!"
"And that was not all, was it, mon ami?" purred Poirot with deceptive gentleness. "When the corpse of the late Monsieur le Baron was exhumed from the family vault it was found to contain arsenic — enough to kill an elephant."
Lovell snarled again. "He had it coming to him. He had bullied and terrorised the whole county for years. He was a mountebank, a blackguard, a —"
"And so you murdered him as well!" cried Poirot with surprising ferocity. "Hastings, hold him fast. Inspector Japp, if you please, the handcuffs."
The Gower Wassail
Words: Traditional
Music: Traditional arr Mim MacMahon

Sue: This is another song which has been part of our Christmas repertoire "for always", learnt originally from the Steeleye Span version. It was the verse about the moon and the sky that made it so special to us, particularly to Mim, who has always been a sucker for astronomy.
When we decided that it should appear on the album we went back to the sources and Mim created an arrangement which highlighted the dialogue between the wassail boys and the farmer and, in her usual way, casting us as "characters", as in this drawing. Sophie is the little cute one at the front, a good ploy for wheedling money out of people. As well as singing the part of the farmer, I'm also the wassail boy at the back; the big one who is useful for carrying such things as heavy wassail bowls. Mim, in the middle, is — inevitably — the ringleader. Just look at that "butter wouldn't melt" expression!
I should just point out, in case anyone is misled, that the "characters" are vocal rather than physical. My ears don't stick out half as much as that.
The other thing about the Gower Wassail is that, unlike some of the others, it does not feel obliged to offer a toast not only to the family but also to each and every animal by name and in minute detail. When the only wassails I knew were like that, I had pretty well been put off wassailing for life; I just didn't see the point. Well, that's not entirely true: I could quite see the point of ensuring that the whole farm, all its crops and all its livestock were included in the blessing of a wassail. What irritated me — and continues to irritate me — was the way that these verses had become set in stone because that was the way the song had been sung when it was collected. Call me a rebel, but I feel that to have any validity as anything but an exercise in historical re-enactment, folk music must be a living thing and, as a living thing, must adapt and evolve. There's no point in wassailing "Fillpail and her left ear" if the animal in question has been dead for ninety years and her current descendant in the herd is "No 7856 and her nasty tendency to kick out unprovoked". I'm pretty sure that when these songs were in more regular use just such amendments would have been made "on the hoof" (sorry about that!) to fit the circumstances.
The Trees They Do Grow High
Words: Traditional
Music © MimMacMahon 1992/2007
Mim: Another winter night, another bereaved woman. We placed this one after Christmas, because — well, we just did. There's a lot of winter after Christmas. There's a sort of January-ish hopelessness about it, too, with the feeling that everything good is in the past, not the future. We take it that the whole song is a story told in flashback, as the young man's widow lies alone in her bedroom, sleepless, brooding over what has been.
There is another issue here about the musical setting. There are two traditional airs to these words, and, call me picky, but I didn't much like either of them. My habit of "staging" our songs, so that each of them turns into a mini-opera, suggested that we play it with a cast of characters, and the musical setting needed to do that for us. Again, this was back in about 1991 or 1992 and it may be that I had more chutzpah then.
This particular tune used to have instruments, but we ditched the instruments and so, for years, this song lay in abeyance. Then the other two asked me to have a go at an a cappella version, so I did. I've taken a bit of a liberty with the father-daughter altercation in verses 2 and 3 by writing a part for myself (ahem!) so that she is now having a bit of a set-to with Mum (that's me) as well as Dad. My take on these parents, incidentally, is that they are substantially decent people who are trying to provide for her future as best they can. Mum, if you notice, is alternately singing with Dad and with the daughter: I think she's the mediator. I feel this is set somewhere in, possibly, the 17th century and a good way north of the Trent. Not an easy place or time for an unprotected woman — so Mum and Dad have looked about and chosen a lad with (a) a title, (b) pots of wonga and (c) youth on his side, trusting he'll be around for a good while to keep her in comfort. Of course it all goes wrong because, although (it's implied) she falls in love with him, sadly, he dies soon afterwards leaving her, presumably, a rich widow — and, thus, a prey to every fortune-hunting chancer in the North. Let's hope she avoided them.
The reference to "my Lord Craigton's son" in verse 3, is not strictly traditional, I found it in A.L Lloyd's "The Penguin Book of English Folk Songs". It alludes to a young man who may have been — supposedly — a possible original of the young husband in the song. It seemed to scan better, so I left it in.
Mad Magdalen's Song
Words: Traditional/Thomas D'Urfey
Music: Traditional arr Mim MacMahon
Mim: This one should be self-evident. The three verses are taken from the traditional "Tom of Bedlam" canon, and, as far as I know, are the only time when Magdalen herself gets to speak.
Her melody acts as a counterpoint to the main Tom of Bedlam/Bedlam Boys theme (the traditional one, sung by Sue, as Tom, in our version). It came to me one sunny August afternoon on my way home from the Co-Op. It really did! I'd had hell's delight trying to put the original tune into three parts with the melody in the tenor and then this counterpoint just happened — it stands as a theme by itself, as well as a counterpoint to Tom's theme. After that, the Moon's theme, also a counterpoint, came quite easily.
Magdalen's name, as I understand it, comes from the name of the Magdalen Hospital; I'm sketchy about this, but I believe it may have combined the duties of being a sort of female wing of Bedlam with being an institution for the incarceration of prostitutes, assumed prostitutes and street women generally. It was named, I'm assuming, for St Mary Magdalene, one of my favourite saints, "out of whom went seven devils", apparently, so an appropriate saint to watch over disturbed women, or women with unhappy pasts. The Hospital's inmates were called "Magdalen girls", pronounced "Maudlin", a term which would have been extended to cover mentally ill women generally, as "Bedlam boys" did mentally ill men.
Thousands or More
Words: Traditional
Music: Traditional arr Triangle
Sophie: This song was unashamedly borrowed from the Copper Family and has become a staple of the Triangle set, being the one that we usually start with. Our version is quite different from that of the Coppers — it's much faster, for a start, and the harmonies are different — but hey, that's what the oral tradition is about!
Sue: I've known this one, or bits of it, for most of my life. For me, the Coppers' music has been one of those sounds in the background that you are barely aware of most of the time until something happens to bring it into the foreground and, in this case, it was the decision for the band to go completely a cappella. How could someone who grew up in Sussex not turn to the Coppers for unaccompanied inspiration?
The Leaves of Life
Words: Traditional
Music: Traditional arr Triangle
Sophie: This arrangement was probably the most organic of any track on the CD. Some time in 2005 we were sat around the table at my former family home (a converted windmill), with Ann Golding, my mother's much loved companion, carer and helper, drinking copious quantities of tea and singing Leaves of Life over and over again, throwing lines around between us until we worked out which line belonged to which 'character' in the song. Having sussed out the story, we then experimented a bit more to determine which lines could take a harmony and which really needed to be solo. Unlike most of our harmonic arrangements, which are composed and notated by Mim, in this case we just extemporised until we could remember what we'd done twice in a row! Ann listened throughout the whole process, and when she told us it sounded good, we knew we'd got it right.
Sue: I remain convinced that this song started life as part of a mystery play. Quite apart from the words, there is something about the melody which, to me, feels old. I found this particularly when I was trying to notate it to produce a guide track — it really does not want to be bound by five-line staves, crochets and quavers. Oh, of course, it can be done, but this melody yearns for a four-line stave and plainsong notation. One of these days, I'll do it!
Ann died on 26th July 2009, the day before we heard that the CDs were ready, so she never got to hear the recorded version. We like to think she would have approved.
A Spring Carol We Can All Agree On
Words and Music © Mim MacMahon 2006
Mim: I'm writing this on a spring evening, and as I write, the Easter moon is clearly visible in the eastern sky from my living-room window. In two days that moon will be full, and I know that my Jewish friends will be celebrating Pesach — Passover — on the very night of the day we call Maundy Thursday, the night of the Last Supper itself. When I was a little girl, I discovered for myself the great mythologies of ancient Greece and Rome. To a child who loved stories, especially stories that sought to explain things, these were a treasure-house. One myth that especially haunted me was the myth of Persephone, daughter of the corn-goddess, captured by Hades, the wickedest of wicked uncles, and carried off by him to become his unhappy queen in the realm of the dead. I remember there was quite a lot of negotiating, as the corn-goddess, understandably riled, went on strike, causing universal famine. To my relief Persephone was rescued, but wait! Oh dear! She had eaten some pomegranate seeds, and for some reason, she still had to spend part of the year as Queen of the Dead with her wicked uncle. So, in the autumn, after the harvest, she goes down to Hades, and the corn-goddess grieves, and the fields are bare. But hurrah! She returns in the spring. The snowdrops are whispers of her; the crocuses are her emissaries; finally, the daffodils raise their trumpets in fanfare as she throws off her mantle of black, puts on her gown of green and emerges into the upper air. Because Persephone is the seed that must be buried in the earth in order to spring up as the new plant. (I read "the Golden Bough" at an impressionable age.)
Or so the Greeks thought, centuries before the three crosses on the bare hill, and the empty tomb that changed the world — and my world — for ever.
Why Adonis' temple? Why hyacinths? A bit of poetic licence. One Easter Sunday evening Sue, Soph, Soph's partner Andy, and I were coming out of a Christy Moore concert at the Barbican. It was mild, and as we walked towards Liverpool Street, we could smell, on the night air, the unmistakeable perfume of hyacinths. it came from somewhere in the direction of the Roman Mithras temple they unearthed some years ago near to that area. I substituted Adonis because, well, read "the Golden Bough"; he too is or was a deity associated with the death and rebirth of nature.
Because every land, every culture in the temperate zones has felt the need — the urge — to celebrate the tangible miracle of the return of spring to the earth, new every year, and as ancient as the earth itself.
Sophie: This song is a particularly good answer to the question: how do you manage to do religious songs of any nature in a band consisting of two Roman Catholics and a Wiccan? The answer is, essentially, that we all have a knowledge and an appreciation of the stories associated with each others' beliefs. We do have different beliefs, of course, but the title says it all — this really is "a spring carol we can all agree on".
May Morning
Words © Sophie Watson 2007
Music: Traditional arr Mim MacMahon
Then memory surrounds me and tears fill my eyes
But I know that Mike's with me as I watch the sun rise…
Sophie: My father, Mike Watson, was a morris dancer for over 20 years. I did a lot of folk dancing from the age of 16 but didn't take up Cotswold Morris until 2001. After I did so, we always said how much fun it would be to dance the sun up together on May Day, but we never quite succeeded. Then, in February 2005, I discovered that Mike had prostate cancer; he had known for some time but had not wanted to worry me while it was under control and while I was concentrating on studying. He nearly died in March 2005, but pulled through for a time and was well enough for us to dance the sun up together that May Day. In July the same year, he finally lost his six-year battle. Since then, I have danced the May Day sun up each year with his old side, the Maldon Greenjackets, of which my stepmother Sue is still a member. In 2006 we danced in a rainstorm, but 2007 saw one of the most glorious sunrises I've ever seen.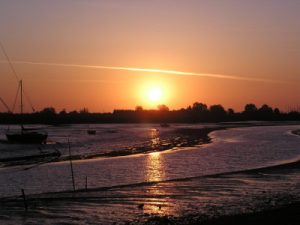 When I set out to write May Morning, I intended it to be a celebration of the pagan festival of Beltane and the old tradition of dancing the sun up, but it has ended up being a commemoration of May Day 2007 and a tribute to my father, for which I make no apology.
In the Triangle arrangement, we sing to the tune of "Bonny Green Garters", a traditional Cotswold morris tune that is frequently used as a "farewell" dance at the end of a set. The song wasn't written to fit any particular tune, but Mim suggested that a morris tune might be appropriate, and Bonny Green Garters was the one that suggested itself, given the metre of the lyrics.
Sue: Like Gale, Mike played a significant role in the genesis of Triangle. In his case it was as chauffeur. At the time of our first incarnation, Sophie wasn't even old enough to drive, and so it was that it fell to Mike to ferry her over to ours or, as we didn't have a car at the time either, us over to theirs so that we could practice. You would be surprised how many musical instruments can be fitted into the back of a Mini Clubman. And in the intervals between ferrying us back and forth he not only cooked for us, he was also our first (and, in some ways, our sternest) critical listener.
A Rosebud in June
Words: Traditional
Music: Traditional arr Mim MacMahon
Mim: When I start to arrange a piece, my own or someone else's, I don't get sounds in my head at first, I get pictures. All songs tell a story — all ours do, at any rate — and it seems important to me that I have a picture in my head of what is happening, before I can get the notes down. The pictures, in some way, kick-start the notes.
For example, when I arranged "Rosebud in June" for two women's voices (Sophie's and mine, as it happens, but they could be anyone's) the picture in my head was like this: it's Somerset, it's the first really warm, fine spell after a long, cold winter and there are two girls working in a cowshed — either milking the cows, or feeding them, or mucking them out, or something — maybe they're about to go out to pasture (the cows, that is, not the girls) — anyway, what the cows are doing isn't really the story. Through the open doorway, they can see sunshine and blue sky: they can hear the blackbird, feel the new green of the leaves — at that point where spring starts to spill over into summer — and maybe the dog-roses are already in bud. Each girl is thinking — quite separately — soon it will be sheep-shearing time, soon we won't be stuck in the cowshed, we will be out in the shearing pens, in the sun, in skimpier clothing … with the lads. As they daydream, the whole thing: summer, sun, dancing, green grass, being close to the men they fancy, all comes together in their imaginations, and, at last, they look across at each other, realise they have both been thinking the same thing, and share a grin. Once I had seen and felt all of that in my head, I could put the notes down. It really is as childish as that.
The Barghist Coach
Words © Sophie Watson 1989/2005
Music © Mim MacMahon 2007
Sophie: Back in 1989 I spent a week in the Yorkshire coastal town of Whitby, during which time I went on one of the fabled Whitby Ghost Walks. I was particularly struck by the tale of the "Barghist Coach", a ghost coach which rises up from the waves in dead of night to take the spirits of dead sailors back to the sea. It seemed to be the sort of tale that should have a song written about it. I've never been very good at writing music, but I'd played around with writing poetry as a teenager, so I wrote some verses about the Barghist Coach, which a friend set to music a couple of years later. It sounded fine with its original full band backing, but that particular band never really took off, and bereft of its backing music the song didn't take off either. It was not very practical to perform at a folk session, and as time went on I found the lyrics increasingly unsatisfactory anyway, so it languished in my songbook gathering dust for many years.
Then in 2005, as is recorded elsewhere on the website, Sue, Mim and I started doing some serious singing together again. With the band taking on a new lease of life, we started looking around for new material, and I began to wonder … was there any mileage in attempting to rewrite Barghist Coach? Sue and Mim were already familiar with the original version and liked it as a concept for a song, so I thought it would be worth giving it a go.
The original chorus became a coda at the end of the song, but to make up for the lack of a chorus I repeated the last line of each verse as a refrain. The order of the verses was changed several times before I was happy with it, as I wanted to make sure that the song told a coherent story. And of course I eliminated all those turns of phrase that appealed to my 20-year-old mind but rather embarrassed me 16 years later!
Rubies of Suffolk
Words and Music © Mim MacMahon 2006
Mim: Once upon a time there was a woman who worked very hard, and travelled a long way from home every day in order to do it. Her job consisted of trying to help people, and sometimes the people were nice to her, and sometimes they weren't, but she had to try and help them anyway. Because she spent so much time away, she loved the times she spent at home better than any others. And she especially loved the changing seasons, and the simple treats each season brought to her and her friends in their Suffolk home.
When June came, her favourite treat was to visit a farm about two miles up the road from where she lived, where the Best Strawberries In The Whole World grew. You may think you have eaten strawberries, but you have never eaten any like these; unless, of course, you grow them in your garden. Their scent is heaven, their colour the clearest, brightest, most shining red, and their taste pure, fresh, unalloyed sweetness. Her sad, tired heart grew lighter just gathering them. Eating them, well, that was something else.
One hot morning, standing in a polytunnel with the celestial perfume of strawberries filling her nostrils, she heard, but could not see, an elderly gentleman gathering fruit with his neighbours. She heard him say to his friend, in a broad Suffolk accent: "They're hangin' down like clusters o' grapes." She could not get that phrase out of her head. All the way home under the June sun, with the huge blue Suffolk sky all around her, she repeated it to herself. And through the whole of the following week, at work, whenever things got a bit fraught, she remembered it. And it turned into a hum. And the hum turned into a little verse … then another.
And the following Saturday, another hot blue June morning, out came this little song. It's not very clever, but people seem to like it. Especially, which is probably not surprising, people in Suffolk.
And the woman? She still works very hard, trying to help people. And she still can't get enough of those wonderful strawberries.
Sue: And the chorus? What's London got to do with it? Well, both Mim and Sophie commute to work there: Mim, daily; Sophie, sporadically, but the genesis of it was that, at the last place she worked, Mim used to take them strawberries we had picked and they just couldn't get enough of them, these were so different from the usual supermarket ice-balls that pass for strawberries in London. Trouble was, they never quite got the hang of the idea that these were strictly seasonal and, through the winter, Mim would be followed by plaintive conversations along the lines of "Why can't you bring us some more of those lovely strawberries?" "Because they're not in season." "But they've got them in Tesco's …" At which point Mim would raise her eyes to the ceiling and long for summer!
Glorious Ale
Words: Traditional
Music: Traditional arr Triangle
… or is it?
Sue: I'm not so sure that this is traditional. I think its source is probably the Victorian or Edwardian Music Hall — or perhaps a little later. However, like many Music Hall songs it seems to have found its way into what one might call the "common stock" and, in this case, I have not been able to track down any clues as to its author (I thought I had, a while ago, but I was wrong!) If you think about it, it ticks almost too many of the "right" boxes, so that it verges on caricature. Add to that that the dialect in which it appears to have been written is best described as Mummerset and I think we have an urban view — though an affectionate one — of rural life.
But that aside, it's a song in praise of good English ale, which can't be bad!
When we perform this live — silly phrase, how else were we going to perform it? I mean, when we have a live audience in front of us, we usually amend the second verse to something more immediately topical concerning MPs and Parliament. For the album, though, we decided to stick with the "traditional" words. There's nothing worse than a "topical" reference which has ceased to be topical and not yet become historical! I shall probably have to leave my collection of scribbled post-it notes to the nation so that future researchers can trace the history of topical comment in folk culture, or something equally worthy.
The Lofts of Bedlam
Words: Traditional/Thomas D'Urfey
Music: Traditional arr Mim MacMahon
Sue: To my mind, these are some of the most extraordinary verses of all in the "Bedlam Boys" canon. Leaving aside the bizarre and sometimes slightly arch imagery which we have defined as Tom's rambling conversations in his head, these verses talk about the realities of his world: incarceration in Bedlam and surviving on the street by a mixture of begging and theft, sleeping rough and going hungry. Maybe I've been hanging around with social workers for too long! We have also included the author's wish that his listeners should keep their sanity, so we will sign off with the same wish:
From the hag and hungry goblin
That into rags would rend ye,
All the sprites that stand by the naked man
In the book of moons, defend ye.
Thanks for listening, and now for the credits:
Time Out Of Mind was recorded and mixed at Mikesound Studio, Henley, Ipswich between November 2007 and April 2009. The Sound Engineer (and Tea Boy) was Mike Briggs assisted and, indeed, sometimes usurped by Triangle: Mim MacMahon, Sue Manley and Sophie Watson. All tracks are copyright Triangle Music.
Particular thanks go to those friends who provided "innocent ears" at the rough-mix stage, especially Pete Ellis, who took a great deal of time and trouble to provide copious notes for us to work on.
The font used for the CD artwork is Crystal Sans, designed by Sophie
Sophie: In 1996 I succeeded in fulfilling a long-held ambition and obtained a place to read Typography & Graphic Communication at The University of Reading. Back then, the undergraduate course lasted four years (it's down to three now), and I loved every minute of it. The course comprises both academic and practical work, and the topics covered are many and varied: amongst other things I tried my hand at bookbinding, letterpress printing, darkroom techniques and typeface design, and the typeface 'Crystal Sans' was the end result of a course module that I undertook in my third year. It was based on an existing seriffed type (for the life of me I can't remember which one), and was created using a software package called Fontographer. My intention was to design a humanist-style sans serif type — one where the letterforms have recognisable thick and thin strokes, rather than being monolinear – which could be used for the setting of text and not just as a headline type.

And the name? Well, my then partner and I had recently adopted a stray cat — a tabby-and-white moggy, who moulted fur all over the place. As both of us were real ale drinkers, and my partner had a good line in incredibly bad puns, we named the cat Crystal. (For those of you who aren't into real ale, I should perhaps explain that crystal malt is a constituent in a lot of beers.) When it came to naming my new typeface, I decided to call it after the cat. Crystal moulted her fur; here was a typeface that had 'moulted' its serifs, so it seemed perfectly logical!